How to use Interactive Forms to publish semi-automated articles on your social media
In LazySMM we provide easy to use Interactive forms.
Interactive forms - introduction
There are many use-cases how you can use Interactive forms in your marketing campaigns. The best approach here is to do less manual work as possible and get maximum result from LazySMM automation.
Especially if you have constantly repeatable posts, this solution is right for you.
For example, you can use Interactive forms to:
Publish regular company updates
Software updates, company releases, and any other announcements
Job offers
If publish new job offers for a specific industry or for your company
Events
Event invitations, webinars and any other presentations
Company digitalization and product publishing
If you produce some products or services and you want to publish your products to build a online portfolio
All the examples above are repeatable and in most of the cases do have the identical layout.
The Interactive form concept is designed to focus on the unique values and generate the beautiful social media post automatically.
How to create an Interactive form
The Interactive Form consists of a set of questions.
Here you can set up your Interactive form by specifying a list of questions you want to use.
Later on, when you publish a post, you will be asked to reply to these questions. And as the result, your answers will be transferred to the Text template, Image template and other text transformation templates.
Here's an example of Interactive form for event scheduling: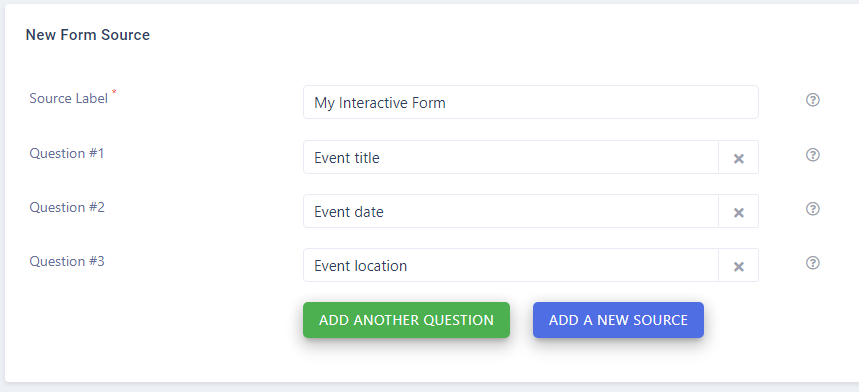 Source label - is just the name of your form
Question 1, 2, 3 - a set of your questions.
As the result, you have all your questions available as variables: question_1, question_2 and question_3 (you can add up to 10 questions in one Interactive form).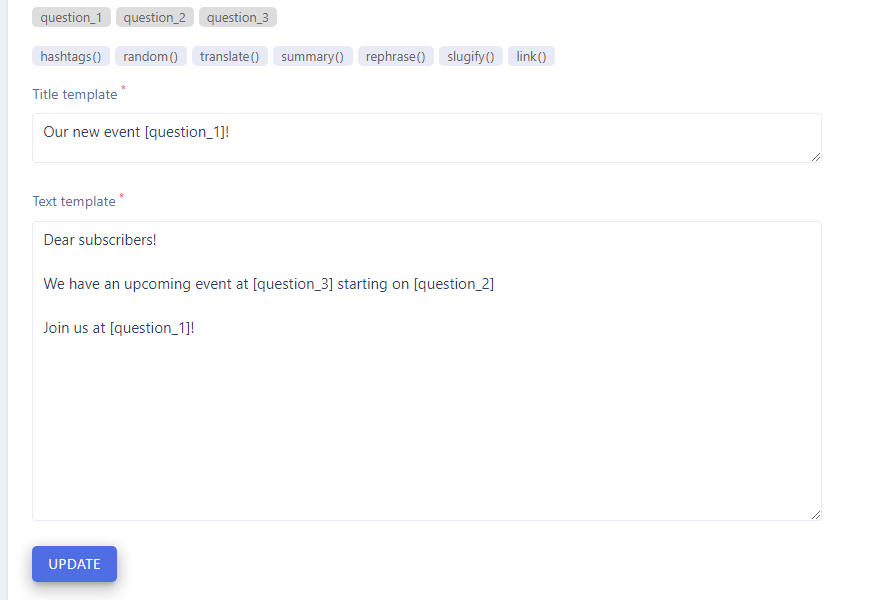 How to access your Interactive form
Open your Campaign page
Scroll down to Sources
Find a form you want to submit
Click on the Link icon

And here's a generated example, based on your questions: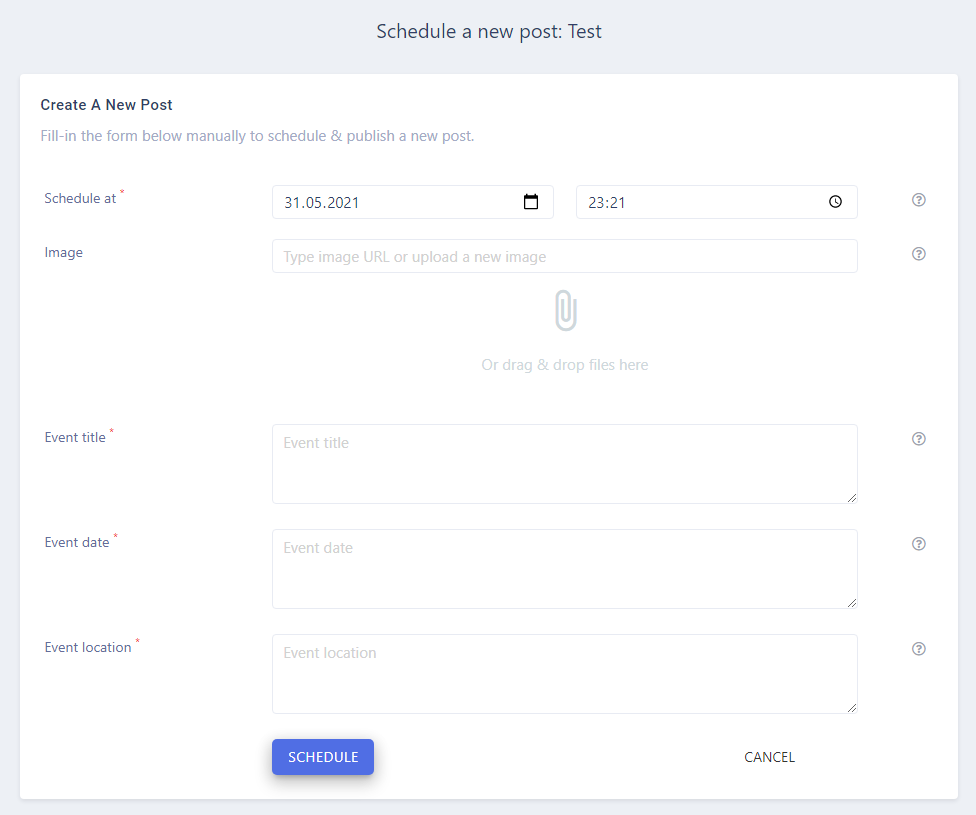 Interactive form - example
If you produce some products and you want to digitalize your business. You can set up an Interactive form for product publishing
For example, you could set up a question containing the product title, price, material used etc
The minimum required information:
Question 1: Product name

and Image: just upload an image from your computer
As the result, our system will process your data and transform it according to your Text template, Image template, Title template and URL template. Everything happens automatically.
Now you have a social media image like this: